I was offered another book to review and I must say I'm so happy I accepted!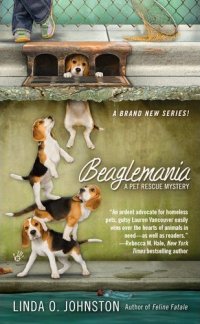 It's the first of a new pet mystery series. It was a bit slow to grab my attention so the 298 pages took me a few days to read but our weekend activities were partially to blame for that. Now, though, I'm wishing I'd just read through the book! The only bad part is now I have to wait for the next book in the series to be released!
Oh, yeah, about the book. This story is about a woman named Lauren Vancouver who is the director of a private animal shelter. She has two grown children who are in college, is divorced, has no pets at home at the time of the story, and just so happens to be a murder suspect. Don't worry, though, she's not a woman to just lay down and roll over, as the story chronicles her efforts to exonerate herself of the charges. Beaglemania was released today and costs only $7.99!
It was such a great book! The only issue I had with it, like
The Search
, was some of the training/dog psychology beliefs mentioned are so old-school and outdated, although since they're still mainstream I suppose it's to be expected from a novel. Not to mention I thought there'd be a lot more mention of the (only) beagles that are featured on the cover, which was kind of disappointing and makes the title a bit of a misnomer in my opinion. Granted it doesn't affect the story at all, just don't read it to get your beagle fix. It really is a great book. Not only was it a great read it incorporated a cunning, wiley woman who was intent on getting to the truth. It tugged at my heart strings with it's mention of young pups and mistreated animals but also the shelter where much of the story took place, makes me want to go volunteer at our local shelter again! Kudos, Linda O. Johnston, for a job well done!
If you want my advice, go get this book, and join me in waiting (im)patiently for the sequels! Better yet, why not win a free copy! I've been given permission to do a giveaway and the winner will be sent a copy of this great book! Just leave a comment on this post and I'll enter you in the giveaway. The giveaway will close 3/8/2011 and the winner will be chosen the 9th, so don't delay!
Disclaimer: I was sent the book to review at no cost to me and the publisher will be sending out a copy to the winner of the giveaway, again at no cost to me or the winner.